"Honing a Critical Cultural Study of Human Rights"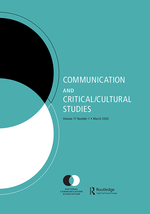 "Honing a Critical Cultural Study of Human Rights" Communication and Critical/Cultural Studies 7 (3): 230-246. Special issue on Human Rights, John Erni, ed.
Abstract: A critical cultural studies of human rights has yet to emerge as an interdisciplinary field of study. Despite the proliferation of scholarly work in legal philosophy and law and humanities over the past decade, we have seen little by way of sustained dialogue between critics of rights or conversations between rights critics and theorists of culture. Nonetheless, the characteristic approaches, concerns, concepts, and methods of cultural studies are both appropriate and necessary in a global policy environment that has put increasing emphasis upon cultural identity and cultural resources in both rights-based practices and neoliberal governmentalities, suggesting new avenues of inquiry.
Reprinted in John Erni, ed., Cultural Studies of Rights: Contingent Articulations (Routledge, 2011) 12-38.
Date Published: 2010
Publisher: Communication and Critical/Cultural Studies
Publisher Website:
https://www.tandfonline.com/toc/rccc20/current