Dynamic Fair Dealing: Creating Canadian Culture Online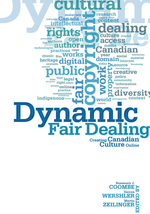 Dynamic Fair Dealing: Creating Canadian Culture Online, Rosemary J. Coombe, Darren Wershler, and Martin Zeilinger, eds. (Toronto: University of Toronto Press, 2014) 464 pp.
Description: Dynamic Fair Dealing argues that only a dynamic, flexible, and equitable approach to cultural ownership can accommodate the astonishing range of ways that we create, circulate, manage, attribute, and make use of digital cultural objects.
The Canadian legal tradition strives to balance the rights of copyright holders with public needs to engage with copyright protected material, but there is now a substantial gap between what people actually do with cultural forms and how the law understands those practices. Digital technologies continue to shape new forms of cultural production, circulation, and distribution that challenge both the practicality and the desirability of Canada's fair dealing provisions.
Dynamic Fair Dealing presents a range of insightful and provocative essays that rethink our relationship to Canadian fair dealing policy. With contributions from scholars, activists, and artists from across disciplines, professions, and creative practices, this book explores the extent to which copyright has expanded into every facet of society and reveals how our capacities to actually deal fairly with cultural goods has suffered in the process. In order to drive conversations about the cultural worlds Canadians imagine, and the policy reforms we need to realize these visions, we need Dynamic Fair Dealing.
Date Published: 2014
Publisher: University of Toronto Press
Publisher Website:
http://www.utppublishing.com/