"The Expanding Purview of Cultural Properties and their Politics"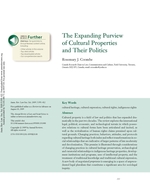 "The Expanding Purview of Cultural Properties and their Politics." Annual Review of Law and Social Sciences 5: 393-412.
Translated and reprinted as "Der zunehmende Geltungsbereich von Cultural Properties und ihrer Politik." In: Regina Bendix, Kieren Bizer, Stefan Groth, eds. Die Konstituierung von Cultural Property: Forschungsperspektiven (University of Göttingen Press, 2010) 235-256.
Abstract: Cultural property is a field of law and politics that has expanded dramatically in the past two decades. The review explores the international legal, political, economic, and technological terrain in which possessive relations to cultural forms have been articulated and incited, as well as the revitalization of human rights claims premised upon cultural grounds. Changing practices, behaviors, attitudes, and protocols regarding cultural heritage both index and reflect transformations in social relationships that are indicative of larger patterns of late modernity and decolonization. This premise is illustrated through considerations of changing practices in cultural heritage preservation, archaeological and curatorial relationships to indigenous heritage properties, development institutions and programs, uses of intellectual property, and the treatment of traditional knowledge and traditional cultural expression. A new body of negotiated proprieties is emerging in a space of unprecedented legal pluralism that constitutes a significant area for sociolegal inquiry.
Date Published: 2009
Publisher: Annual Review of Law and Social Sciences
Publisher Website:
https://www.annualreviews.org/loi/lawsocsci