About Professor Coombe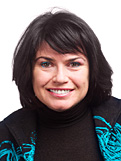 Rosemary J. Coombe is the Tier One Canada Research Chair in Law, Communication and Culture at York University in Toronto, where she teaches in the Department of Anthropology, the York and Ryerson Joint Graduate Program in Communication and Culture, and the Graduate Programme in Socio-Legal Studies. Prior to being awarded one of the country's first Canada Research Chairs she was Full Professor of Law at the University of Toronto Faculty of Law. She holds a J.S.D. from Stanford University with a Minor in Anthropology and publishes widely in anthropology and political and legal theory.
Her work addresses the cultural, political, and social implications of intellectual property laws. Her book, The Cultural Life of Intellectual Properties: Authorship, Appropriation, and the Law is a legal ethnography of the ways in which intellectual property law shapes cultural politics in consumer societies. The book was awarded Honorable Mention (second prize) in the Law and Society Association's Herbert Jacob Award for the best new book in law and society scholarship (June 2000).
She has recently co-edited (with Darren Wershler and Martin Zeilinger) a volume on the intersections between Canadian copyright law, digital technologies, and practices of dynamic fair dealing. Dynamic Fair Dealing: Creating Canadian Culture Online (University of Toronto Press, 2014) includes contributions from scholars, practitioners, and artists from various disciplines and genres to emphasize emergent approaches to the creation, circulation, and management of digital cultural objects that challenge and/or present alternatives to traditional paradigms of intellectual property and cultural policy.
Her next sole-authored work, The Work of Culture in the Era of Informational Capital: Global Intellectual Property and Its Publics (in preparation), explores how culture is increasingly used as a resource under conditions of economic neoliberalism. The book explores international legal and policy norms and their local implementation, by indigenist movements, NGOs and advocacy networks in Southeast Asia, and Andean and Amazonian South America. Coombe examines the legal instruments used to protect cultural diversity, traditional knowledge, and cultural heritage through the lens of human rights norms and practices. How and why have cultural claims been revitalized in the information economy, and to what extent can appeals for the protection of cultural traditions serve progressive ends? In addition to her research and writing, Rosemary J. Coombe has been developing an online infrastructure project for hosting Canadian cultural works online and influencing intellectual property policy.
Artmob is a multisectoral initiative designed to build large, accessible online archives of publically licensed Canadian art, and to foreground the issues that this process raises for Canadian copyright and intellectual property laws. It is part of an interdisciplinary team of researchers in close consultation with artists, cultural producers and cultural industry groups.